cMALEESS - Cloud-based Monitoring and Analysis for Lithium-Ion Electrical Energy Storage Systems
Lithium-­ion battery systems consist of several individual cells, together with an electronic battery management system (BMS) to protect the cells from operating outside safe regions and to provide state­-of­-charge (SOC) and state-­of-­health (SOH) estimates. In the project, our institute ISP designed and developed a prototype of a cloud­-based monitoring and analysis framework for lithium-­ion electrical energy storage systems together with the industry partner LION Smart GmbH in Garching.
The system allows to continuously monitor and log a set of vital parameters of the battery storage system by end users, and also enables long term quality analyses by storage system providers, including elaborate algorithms for precise SOC and SOH estimation, identification of potentially critical failures at early stages, and long­-term tracking of cell aging. The innovative software services extend and enhance LION Smart's battery management system product family and form a basis for further growth in this business area.
More information on the project can be found here.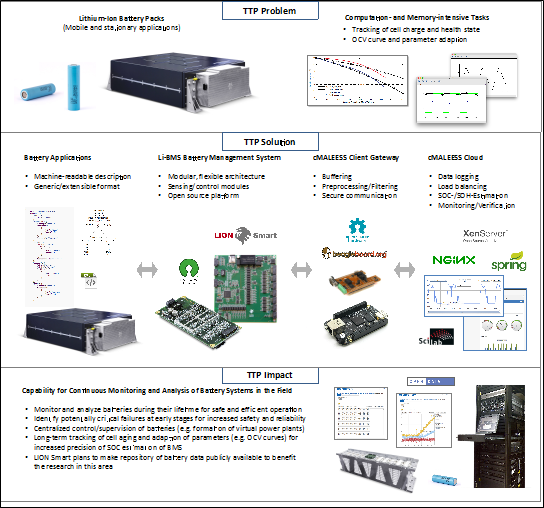 Project partners:

Institute for Software Engineering and Programming Languages (University of Lübeck)

LION Smart GmbH, Garching (Industry Partner)
Year: 2016
Funding: European Commission within framework of Coordination Action TETRACOM (Technology transfer in computing systems)