COEMS results win prestigious "embedded award 2022"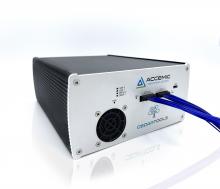 As part of the COEMS (Continuous Observation of Embedded Multicore Systems) Horizon 2020 project, funded from 2016-2020 and coordinated by ISP, the foundations of non-invasive observation of embedded systems were examined and first prototypes were developed that allow for continuous live-monitoring of safety-critical systems. More information about the project can be found on https://www.coems.eu/ .
Project partner Accemic Technologies GmbH has since then further developed and refined this approach, from which their product CEDARtools emerged. At this year's embedded world exhibition and conference, which took place June 21-23 in Nürnberg, Accemic has been awarded with the prestigious "embedded award 2022" in the category "tools" for its CEDARtools suite.
Overview
Director
Prof. Dr. Martin Leucker
Address
Institute for Software Engineering and Programming Languages
Building MFC II
Maria-Goeppert-Str. 3
23562 Lübeck
Contact
E-Mail: office [at] isp.uni-luebeck.de
Phone: +49 451 3101-6501